Do you even archive? is a regular column where we'll talk to labels and artists about their archiving, cataloguing and preservation practices.
In this edition of Do you even archive? we spoke to one of Amsterdam's most ubiquitous and exciting DJs, Femke Dekker aka Loma Doom. The ubiquity is well earned. With over a decade of DJ experience perhaps formerly best known as 1/2 of DJ duo Strange Boutique and tastes ranging from 90s American hardcore and emo to esoteric psychedelic to avant-garde to folk to dance floor bangers and everything in between, Dekker's taste and knowledge of music is the product of a life spent absorbing everything and never abandoning what she's discovered along the way.  Her long-standing Tuesday Night Prayer Meeting on Red Light Radio is one of the few remaining shows from the stations early days. There's a lot to unpack around Femke's music life…which is also just her normal life. We met Femke three years ago at the Amsterdam Online Radio Festival where we heckled (or just asked, not sure anymore) the panel she was moderating (she does that too, very well), how online radio stations archive their shows. So we figured it was time to ask the boss herself, do you even archive?
How do you manage your record collection? How is it cataloged on the shelves and what steps do you take to take care of your vinyl (temp, water, humidity etc.)?
I would say there is very little managing involved. Although I am a big fan of labeled excel-sheets and color coded calendars, my physical realm is a lot less organized. Things tend to find their natural place in our house. My significant other and I share a small apartment in the Eastern part of Amsterdam; he buys books and CD's, I buy books and records.
We of course invested in the Expedit/Billy multiverse but since a year or so I saw my records taking up floor space in ever expanding rows. So the next step would be a modular bespoke system to house all our books, records and cd's. It has been on the wish-list for a while now and I'd feel so grown up if we can finally make that happen. We do have a good friend who builds cabinets, so I'm sure it will happen sometime soon!
For now though, the records are catalogued and categorized in my head. It's a real mess and I think an actual collector would be horrified, but I know exactly where everything is. Records I bought over the years have their place in said Swedish system, newer records are standing in rows on the floor. Whenever I need to sort out records for a gig or a radioshow, I know exactly where to look for what. Although of course the haphazard misplacement can cause some frustration. I usually empty my record bag a day after a gig, so the records I played last are always in a certain row and if I'm looking for records to play next, I make my way back along the rows mentally and start digging. It's like having your own recordstore bins… Minus the nicely categorized bins…
So never mind taking care of them in terms of temperature regulation, water or humidity. I mean they have a protective sleeve, that's about it. Again, a true collector would be horrified…
I also belong to the category of people who considers both books and records as utilitarian. Books need to be thumbed through and records need to be listened to. I don't trust people with hardly touched objects on their shelves…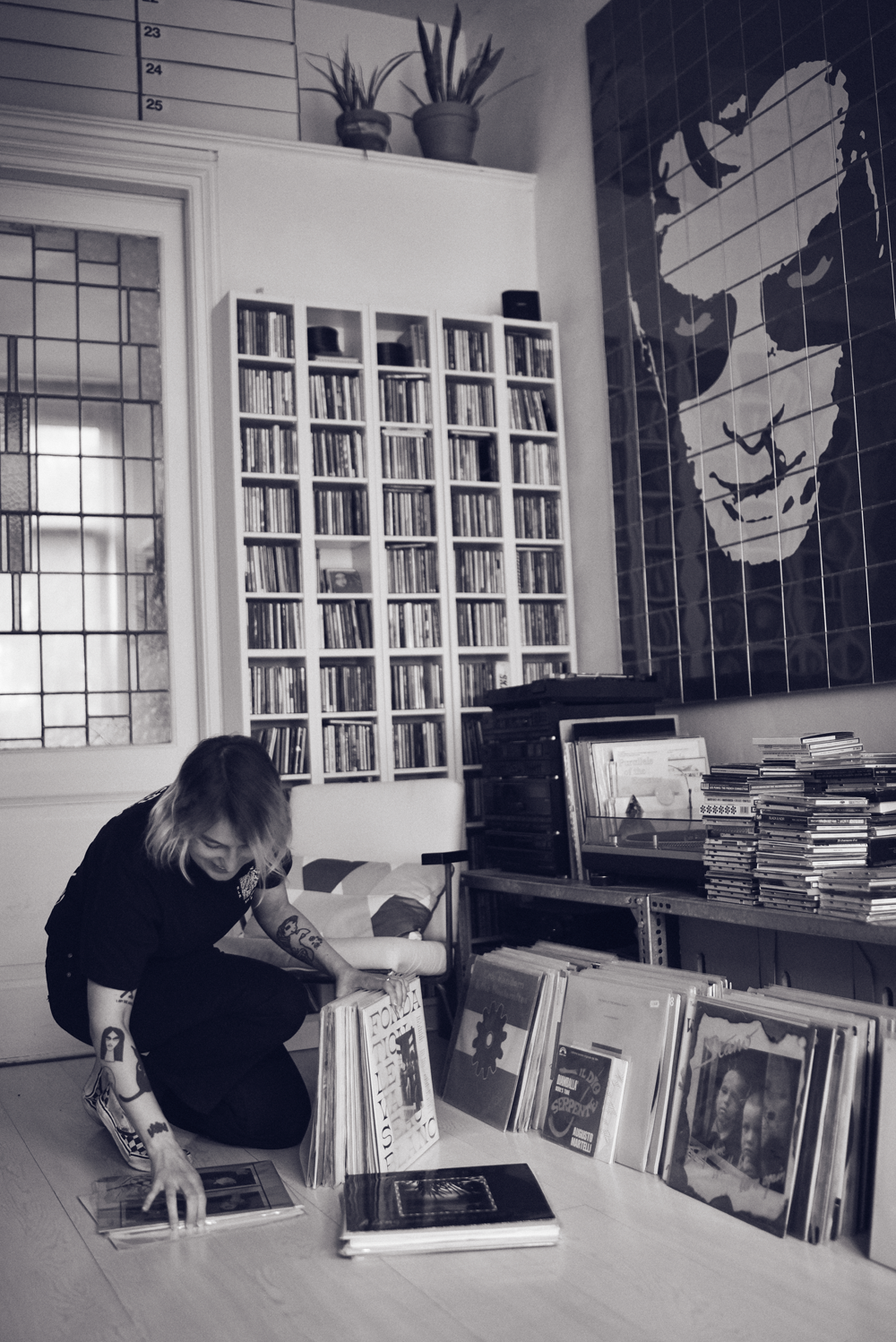 How do you manage your digital files? Do you use rekordbox or itunes or another tool? do you keep backups?
As mentioned before, my digital realm is a lot better organized. I collect all my digital files in iTunes and make playlists for all the gigs I have. I'm also in charge of our holiday playlists so I also have summer sunset lists, roadtrip sections and even Christmas playlists. For my gigs I then export the playlists to rekordbox and use that software to create loops and cues. It's all very basic though…
I also love the 'History' functionality of rekordbox; sometimes when you play you end up mixing some unplanned records that work really well together. But I never seem to remember them by heart, especially if they came from different playlists. This happens especially when the playlist you originally made for a gig, tends not to agree with the direction the night is moving into. The 'History' tool is then really worth revisiting and allows me to put the matching tunes into a new playlist, which can then lie at the base of a next playlist for another gig.
But I really should start keeping track of the records I play, especially when mixing vinyl and digital files, as the vinyl will obviously not show up in your history…
Speaking of keeping track, yes I do keep back ups.
Do you tag your material / give it enriching metadata like "slow jammy" "fast banger 3am stuff" "morning set sunrise ambient", bpms, genre, label etc.?  What's the thought process behind these tags? are they evolving or you try to be strict?
Not the individual tracks, no. But I do name the playlists so there's the radioshow playlists named chronologically – using the abbreviation TNPM for my monthly show Tuesday Night Prayer Meeting on Red Light Radio and adding the number of the show such as TNPM_81 – and then there's the different playlist for separate gigs. And some gigs will have multiple playlist such as my set for Dekmantel this year, which was separated in a dark and light list. So more thematically categorized. And then sorted by BPM in the playlist itself usually, or by the sound I would like to follow through the night (as some ambient songs are over 130 bpm and some tracks considered bangers can be on 90 bpm).
I was actually quite impressed by Objekt's meticulous way of categorizing and tagging his tracks. Maybe one day… But I also like the unexpected, genre crossing directions my sets can take. Going from a Fugazi track to a Konduku track can also be really exhilarating and I think my sets are at their best when the records I choose take me on an unexpected journey, really elevating themselves into a new sound or track.
You have done countless radio shows, do you keep an archive of all of them? Do you add notes or tags to any of them? Maybe that reflect the day, the music, whether it was good or bad etc.
The answer to the last question of this interview is the reason why I started archiving my shows religiously, keeping them both in the cloud as well as on an external harddrive. No notes but the tags I use are connected to particular shows as they refer to the month that the show was broadcasted. They're the same tags I use on Soundcloud as well when I upload my shows and they do mostly represent the mood of the show. As it is a monthly show that, for me at least, invokes a more spiritual cosmic mood, I've aligned my shows to the zodiac circle, tagging them to both a zodiac sign as well as the crystal that belongs to each sign. Now I'm the furthest of a hippy dippy crystal swinging astrology follower, but I do like to create this atmospheric setting that has a little bit of witching-hour feel to it. Putting the listeners under my spell…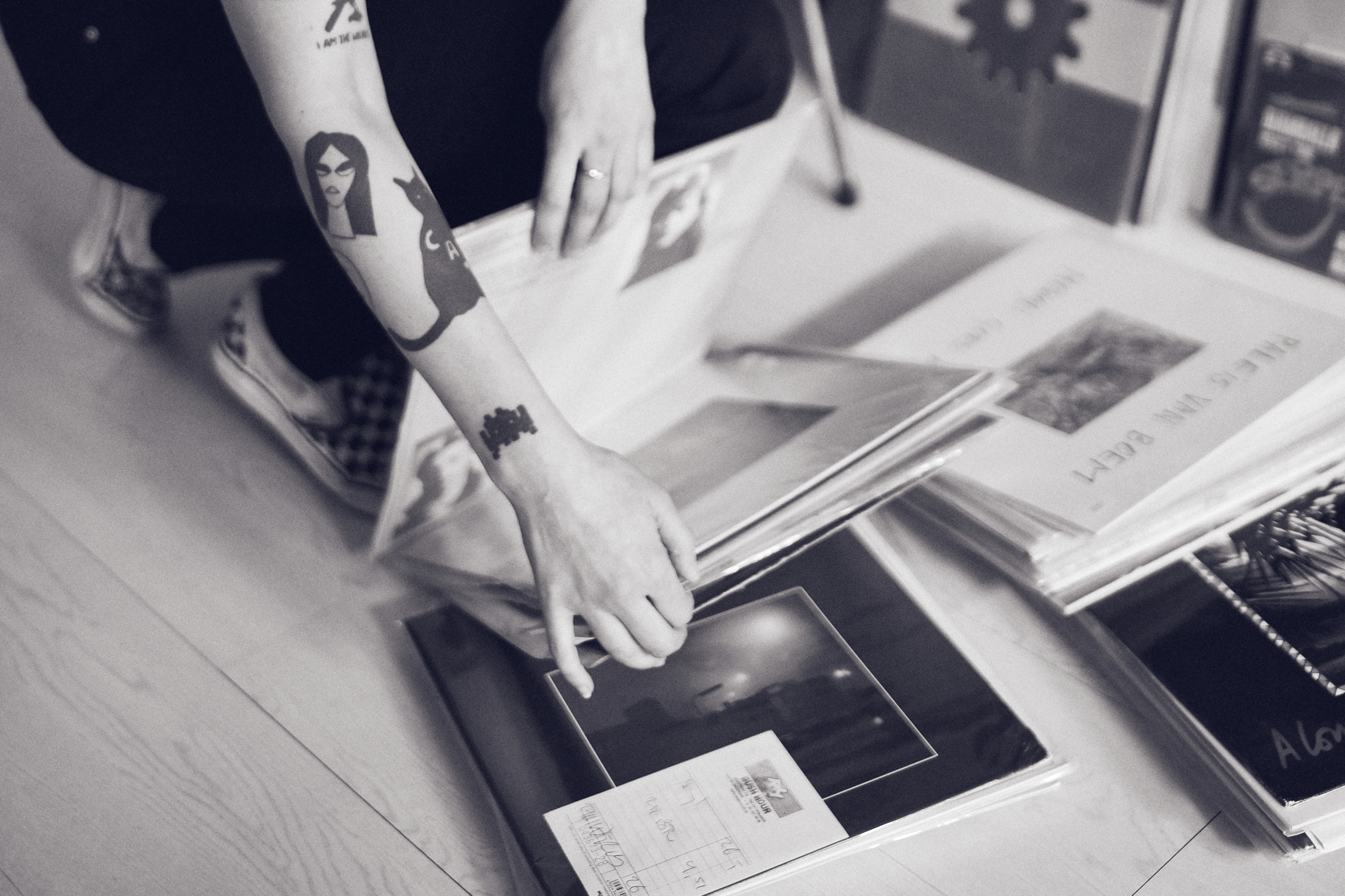 What do you wish you were better at or is there a tool / software you wish existed that would make your life easier?
There are so many things that I wish I was better at…But when it comes to archiving and maintenance, I do greatly value a well categorized and maintained archive.  Having been a guest / allowed in at several national archives and being interested in the role of the archivist as activist, I have a deep respect for people and institutions that put the archive to use for newer generations. Whether it's for research or just getting to know your history and using it to create new projects and ideas.
And if the sky is the limit, then can anyone make me an app that generates your playlist during gigs and radioshows automatically, regardless if you play vinyl or digital tracks? Discogs please take note… Or maybe it's out there already, and I'm just an idiot. Then please do let me know…
Have you ever lost any material that was never backed up? What and how?
Unfortunately, the answer is yes. Back in ye olden days, Red Light Radio had its own Soundcloud archive and would upload all the radioshows after which the residents could repost the shows to their own account. Then Soundcloud was so stupid to block Red Light's account referring to copyrights issues (and Red Light Radio has always paid the national broadcasting fee as mandatory by the Dutch Copyright Act.) And for some reason after the account had been disabled, the first years of archived shows had disappeared.
So, I don't have all my shows anymore and we started recounting the shows when Red Light Radio moved their archive to Mixcloud. So right now, I'm on show number 82, but it's been actually more shows than that. I'm really sad about those first shows though; they were significantly different from its current incarnation and it would be nice to listen back to the first few shows every now and then.